The Fuel availability website will be updated daily in the morning 9:00AM, with the information about the fuel dispatch, along with the fuel filling station details, the quantity of fuel dispatched, and the availability of stocks.

Here is the fuel availability and User guide for Helakuru.
Is there an app for petrol availability?
What is the reason behind petrol shortage?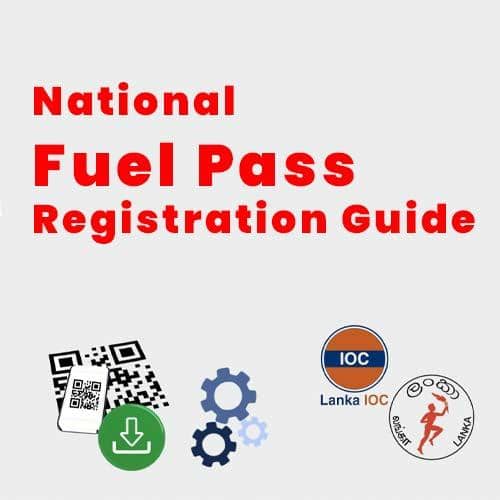 Register on the national Fuel Pass
Fuel Pass is an online platform that aims to weekly fuel quota for motorists. QR code allocated once Vehicle Chassis number 1 Vehicle per 1 NIC & details verified. 2 days of the week according to Last Digit of vehicle number plate for fueling with QR"
Fuel pass : New fuel quota limits
Energy Ministry announced that the National Fuel Pass system will be implemented from the 1st of August
| Diesel Vehicle Category | Weekly Quota (Ltr) | Petrol Vehicle Category | Weekly Quota (Ltr) |
| --- | --- | --- | --- |
| Bus | 40 | Bike | 4 |
| Quadricycle | 4 | Quadricycle | 4 |
| 3Wheel | 5 | 3Wheel | 5 |
| Van | 20 | Van | 20 |
| Car | 20 | Car | 20 |
| Special Purpose Vehicle | 50 | Special Purpose Vehicle | 50 |
| Land Vehicle | 15 | Land Vehicle | 15 |
| Lorry | 50 | Lorry | 50 |
Allocated fuel quota per week for vehicles
Site Temporarily Shut Down
Fuel prices increased again – CEYPETCO
| Fuel Type | Price increase per Ltr. Rupees | New Price per Ltr. Rupees |
| --- | --- | --- |
| Petrol 95 | Rs. 100/- | Rs. 550/- |
| Petrol 92 | Rs. 50/- | Rs. 470/- |
| Auto Diesel | Rs. 60/- | Rs. 460/- |
| Super Diesel | Rs. 75/- | Rs. 520/- |
CRYPETCO Fuel Price Chart
Is there a fuel shortage Sri Lanka?
In short, yes there is a fuel shortage in the Sri Lanka, due to the dollar shortages, the island since January.
Is there website for fuel availability?
Finding your nearest availability fuel station couldn't be easier. A fuel information management system has been introduced new website (fuel.gov.lk) for fuel availability. The easiest way to see those closest availability fuel station near you.
How to get Fuel Update via SMS?
Type FUEL <space> FUEL STATION CODE send to 1919
Easiest Finding your nearest petrol station
To get started, The public would be able to log in to the system via fuel.gov.lk to search for the availability below:
Location (Province, District, City)
Fuel type (P92, P05, D, SD and Kerosene).
open fuel availability site via web, mobile. Once the site is open, fill with nearest fuel station locations and select fuel type. As soon as you tap on the Search button, site will show you all the nearest prtrol stations near you.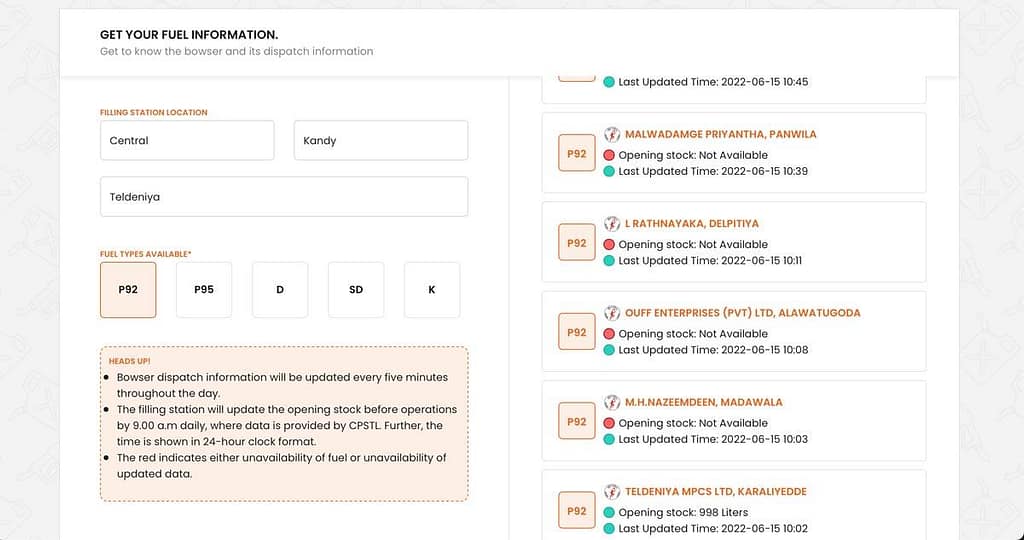 Conclusion
Even if you don't think you're going to need it, it's always good to know where the nearest availability Petrol/Diesel station is. Thanks to Ceylon Petroleum Storage Terminals Ltd (CPTSL), ICTA and the Ministry of Power and Energy, not only will you know where it is, but also show Opening stock: Not Available, Estimated arrival time & capacity, etc.
Follow us on
You may want to read these:
We would love to hear from you! Please comment below or send us your feedback and suggestions.