As people try to break their fast during the holy month of Ramadan, Offers for Iftar and Sohour are growing in popularity in Sri Lanka. Muslims can more easily eat delectable food and spend time with their relatives and friends thanks to the numerous restaurants and hotels in Sri Lanka that provide special discounts and promotions during this holy month of Ramadan.

then why wait? Start making plans for your Ramadan meals right away
Table of Contents Offers for Iftar and Sohour Buffets
Introduction
Finding the top Iftar and Sohour deals in Sri Lanka is crucial, and we at classifylanka.com are aware of this. So that you may quickly identify the ideal offer for your needs, we have produced a list of the best deals currently available around Sri Lanka.
---
Ramadan Special Sahar Kidu – Big Plate
You can now order Kidu Rice from The Big Plate, which is a perennial favorite throughout Ramadan.
Kidu Include
Kaliya Curry, Dhal Curry, Eriyal Curry (Capsicum Curry), Mango Chutney, Chicken Curry or Beef Curry Take away, Dine-in & Delivery Available.
Price:

Chicken Kidu – Rs.4500/= (Serves 6-8)
Beef Kidu – Rs.4999/= (Serves 6-8)
1 Person Pack – Rs.799/=
Extra Fried Chicken – Rs.2299/-
Extra Fried Beef Per Pc – Rs.450/-

Timing:

Sahar: 11:00 PM – 2:00 AM

Contact: 0777 799 400
Location: Available at Colombo 03 (Kolpity) Branch Only.
Order: Call/WhatsApp for your orders to 0777 799 400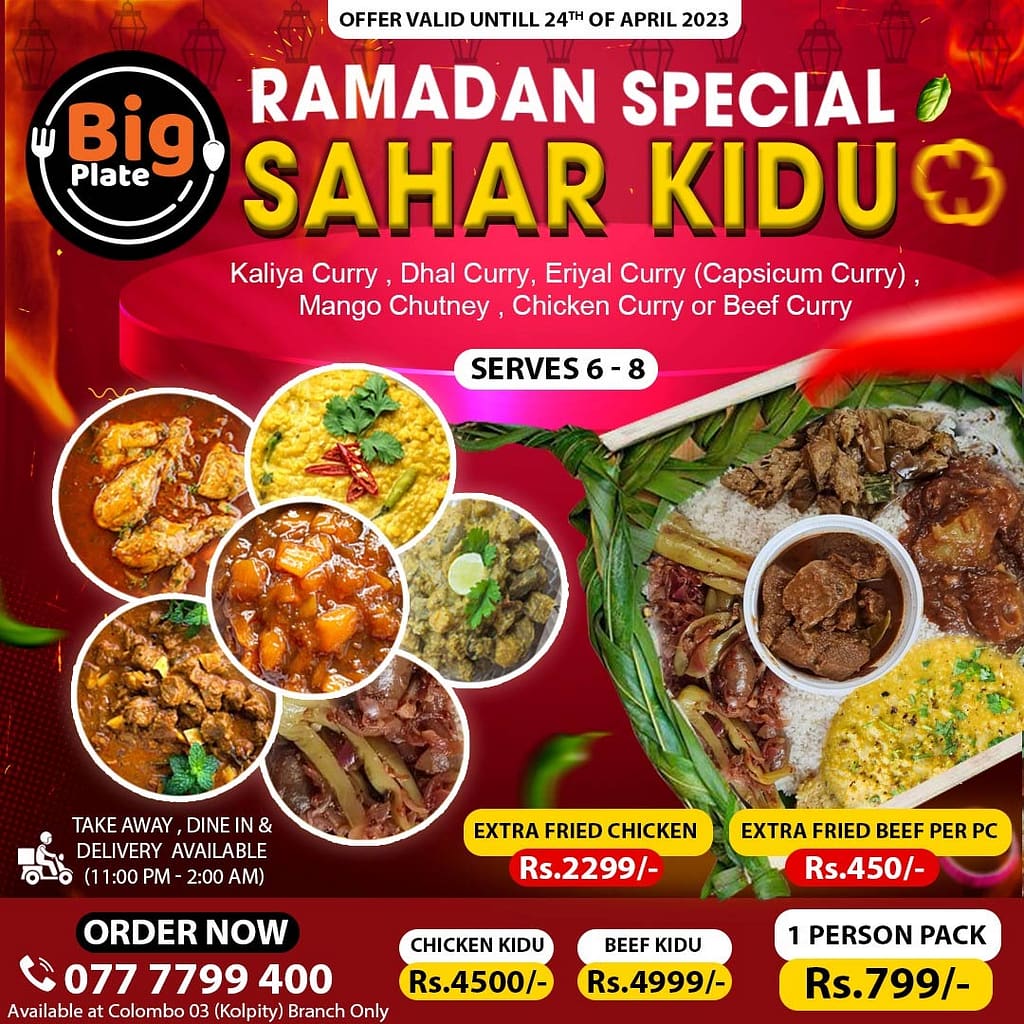 Mitsis Delicacies Ramadan Special Iftar Packs
Introducing Mitsi's Ramadan Special Iftar Packs
Price:

Package 1 – 7500
Package 2 – 14500
Package 3 – 11000
Package 4 – 14000

Timing:
Contact: 077 716 30 90
Location: No 34A, Bagatalle Rd, Colombo 03.
Order: Order now from www.mitsis.lk or Call/WhatsApp for your orders to 077 716 3090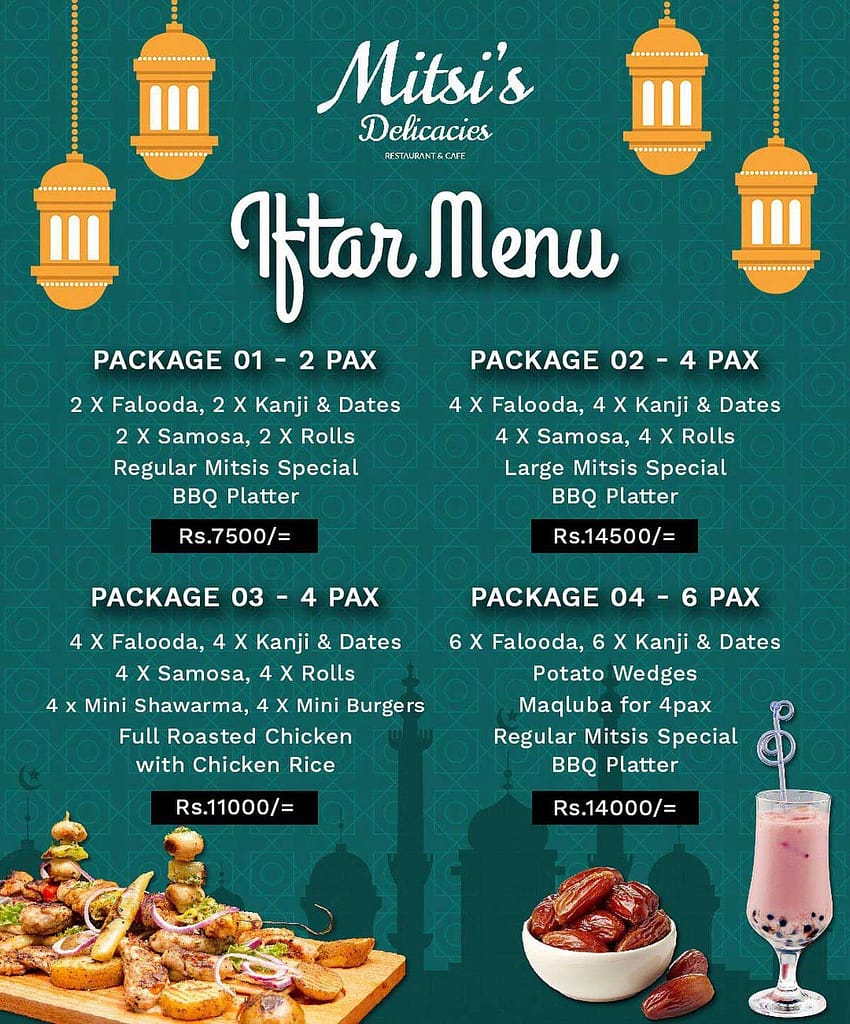 Marine Grill Ifthar Buffet
Together with soups, salads, appetizers, main courses, and desserts, the Marine Grill buffet will provide a selection of classic Indian and Chinese foods. Together with a variety of cool beverages, we'll also be serving Ramadan-specific drinks.
Price:

Monday – Thursday – Rs.3990
Friday – Sunday – Rs.4800

Timing:
Contact for reservations: 0777300686/0112364727/0773779488/ 0772197227
Location: 25, Station Avenue, Colombo 06, Colombo, Sri Lanka.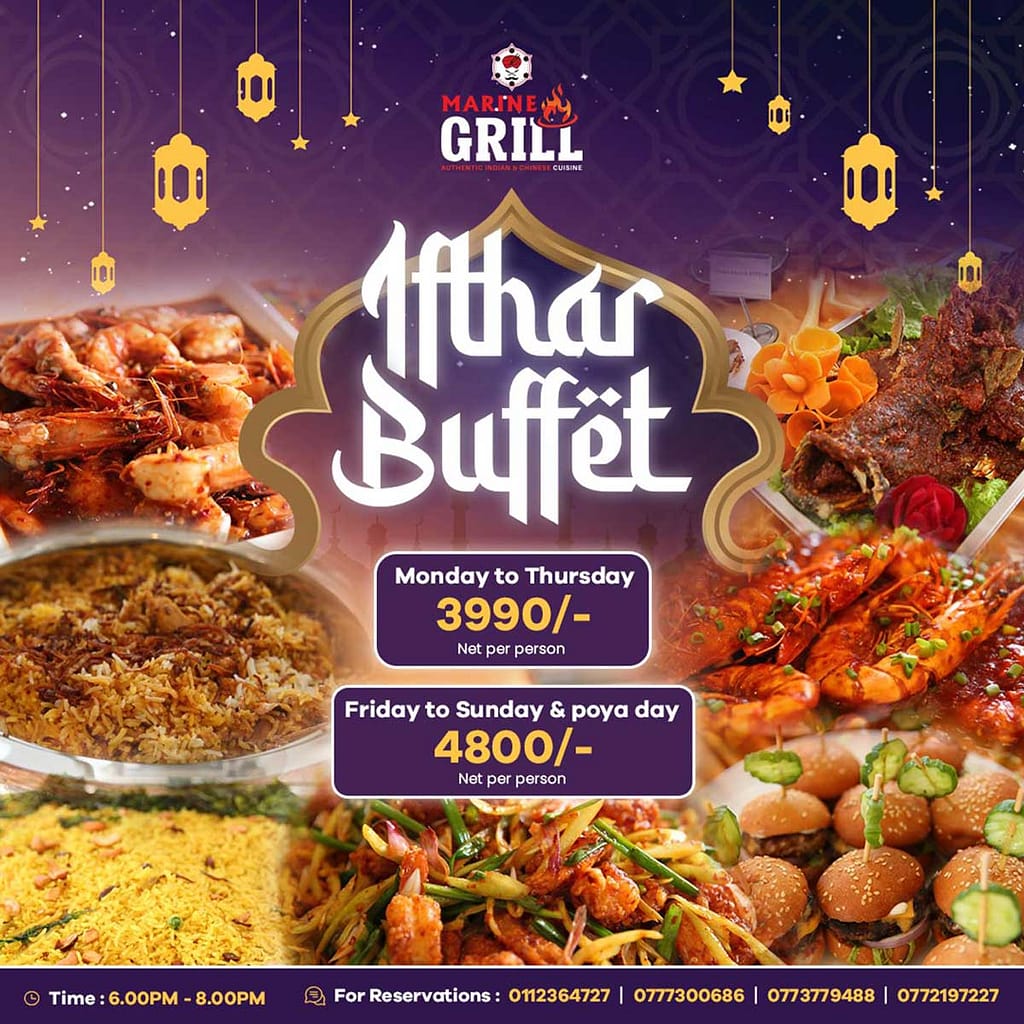 Ramadan Special: Iftar Pack brought to you by The Radh
You can enjoy and share the special Radh Ifthar cuisine with your loved ones.
Price:

Individual Pack- Rs.2650
Family Pack for 4 – Rs.5850

Timing:
Contact for reservations: 077 843 7423
Location: 30, Colombo Street, Kandy, Sri Lanka
Chana's Iftar Buffet Box
We have everything from appetizers to sweets on our Iftar meal in a box!
Includes: Dates Chicken Porridge for 4 Pax Punjabi Samosa x 4 Chicken Lollipop x 4 Chicken Biriyani for 4 Pax Mini Chicken Tikka Shawarma x 4 Gulab Jamun x 4 Falooda x 4
Price:
Timing:
Contact for reservations: +94117939788
Order Online: Buffet box at UberEats, PickMe & KOKO
Location: No. 54, W.A. Silva Mawatha, Colombo 06.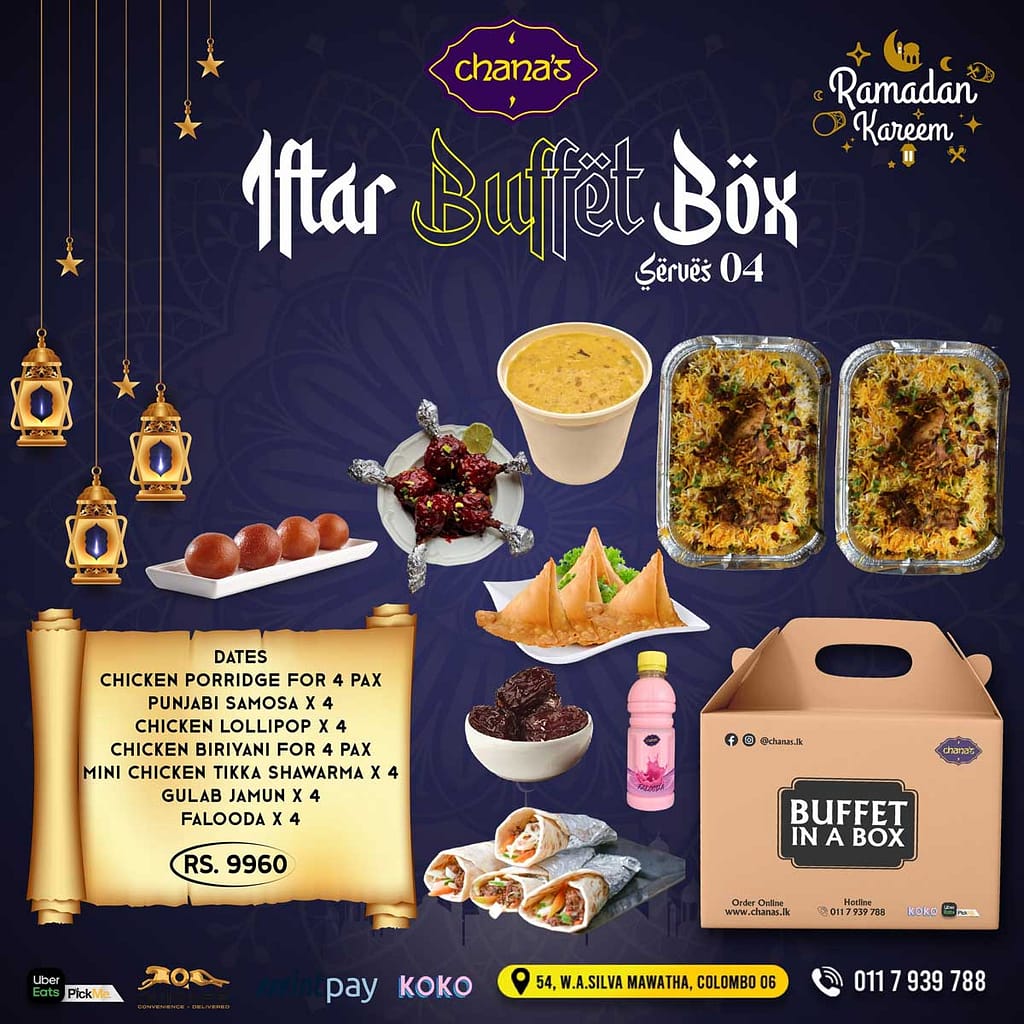 This is Acropol Restaurant delectable Ifthar Buffet Menu.
Price:

Monday – Thursday – Rs.3950
Friday – Sunday – Rs.4400

Timing:
Contact for reservations: 0114 710 990 / 0774 577 577
Location: No. 01 Schofield Place Colombo – 03.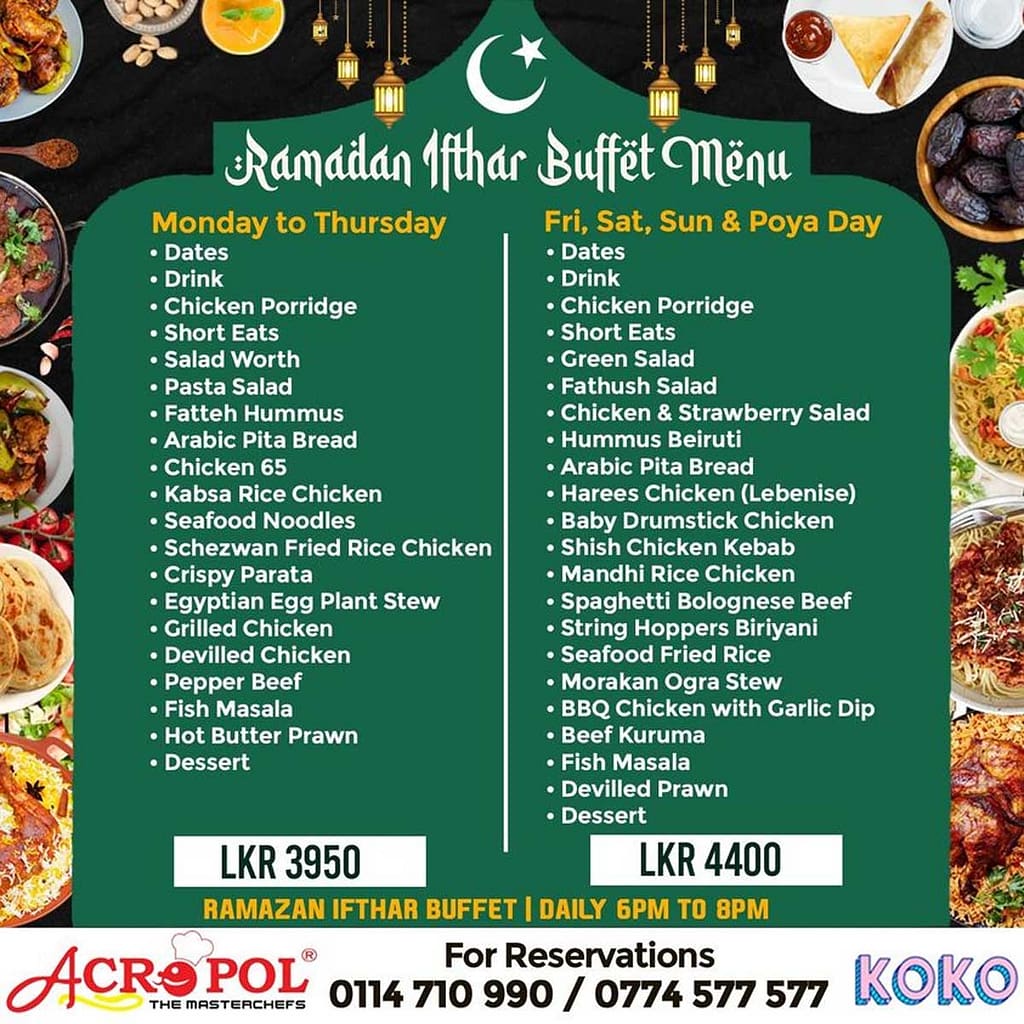 Conclusion
It can be difficult to locate the ideal Iftar and Sohour buffet offers in Sri Lanka, but with our extensive selection of the top offers, you're sure to find something that meets your taste and budget close to you.
Make your Resturant accessible to high-end local customer through our network. Access B2B markets for FREE to increase occupancy and reduce marketing expenses.
Classifylanka allows your Iftar and Sohour Offers, on our website. Reach new customers from around the Sri Lanka! We promote your Restaurant through out our website. Don't hesitate to contact us because we are here to help you.