Applying for a job in Sri Lanka? This guide has the tips, examples, & requirements needed to write the perfect Sri Lankan CV. Create your today!

Sri Lanka CV Requirements – Useful tips to remember while making your CV
Table of Contents Sri Lanka CV
ඔබ රැකියාවක් හෝ නව වෘත්තියක් සොයනවාද? එසේ නම්, CV එකක් සාදන්න (CV) වෘත්තීය නොමිලේ සහ මිනිත්තු කිහිපයකින්. මෙම ලිපිය හරහා, අපි ඔබ සමඟ ලැයිස්තුවක් බෙදා ගන්නෙමු වෘත්තීය ජීව දත්ත පත්‍රයක් නිර්මාණය කිරීමටය. ඔයාගේ CV එක Update ද ? අලුතින් Details එකතු කරලා Professional මට්ටමේ CV එකක් හදමුද ?
CV
Cover Letter
Linkedin Account
All Graphics Design Works
අපෙන් ඔබට
අන්තර්ජාතිකව පිලිගත් ආකෘතිය
සහනදායී මිල
නොපමාව කඩිනම් සේවාව
පූර්ණ කාලීන වගකීම (ඕනෑම කාලෙක යාවත්කාලීන කරගත හැකිවීම)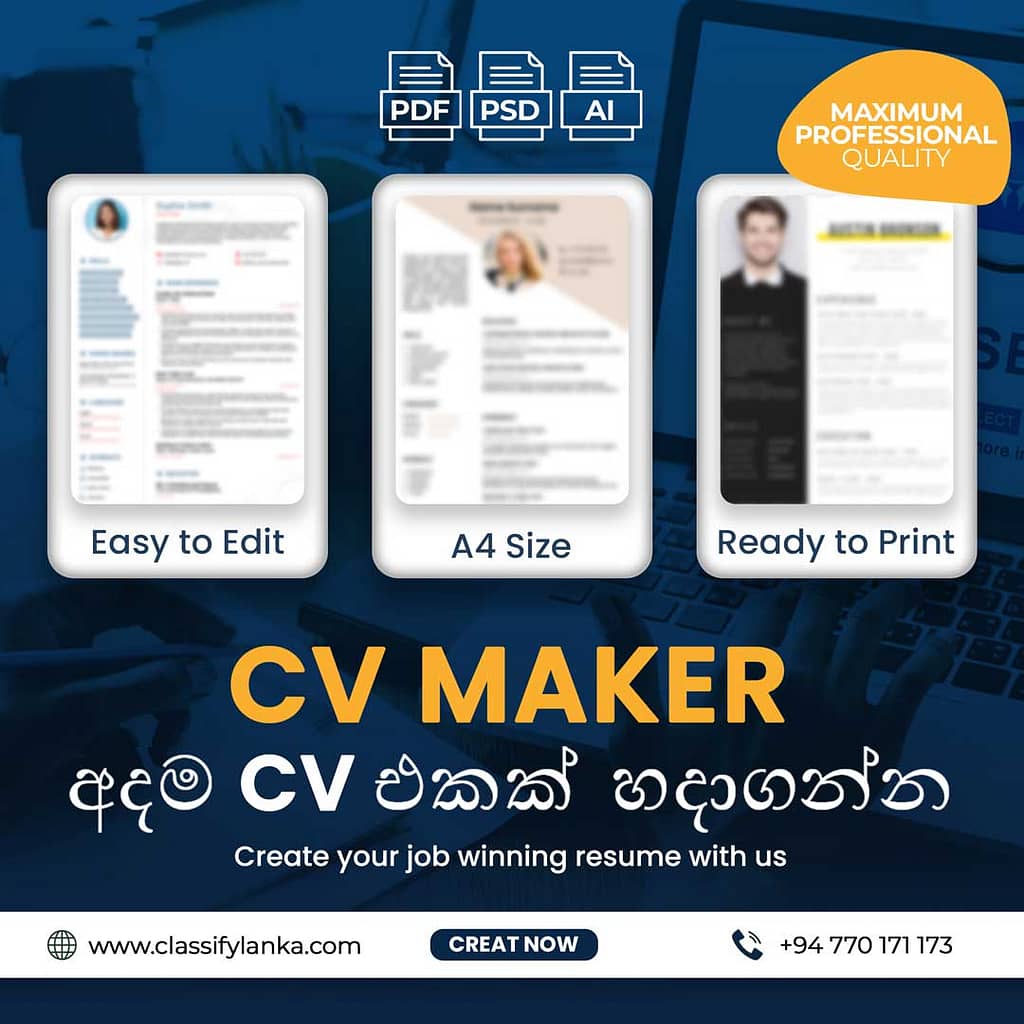 Introduction
Are you a Sri Lankan job seeker trying to write the ideal CV? CV is typically the first item that a potential employer encounters regarding the job seeker and is typically used to interview provides a summary of experience and skills of the candidate who apply, therefore you need to make sure that your resume stands out. This is where the Sri Lanka 2023 CV Format Guide comes in. We'll provide you exclusive advice in this article so you can write the ideal CV that best represents your abilities and experience. This handbook is for you whether you're a recent graduate or a seasoned professional. Let's get going! With a polished and unique curriculum vitae, you'll make a terrific first impression.
The following below is pretty standard.
1. Personal Information:-
The only personal information required for Sri Lankan resume is your contact information – your name, address, phone number, mobile number and email address.
2. Objective
Objective should be brief three to five lines – and should give a clear description of the experience you are bringing to the position, and what your goals and ambitions are for the role you are applying to.
3. Previous work experience
Use previous work history. The structure to follow for each role is:
Job title, Company Name, dates, what you did, for whom and when.
4. Education
List your relevant degrees and diplomas in order, including dates. Include the name of the Institute with detail.
5. Skills
Simple list of skills kept separate from your work history.
6. References
Not necessary to provide references until requested to by an employer or recruiter.
Free CV template from Classifylanka.com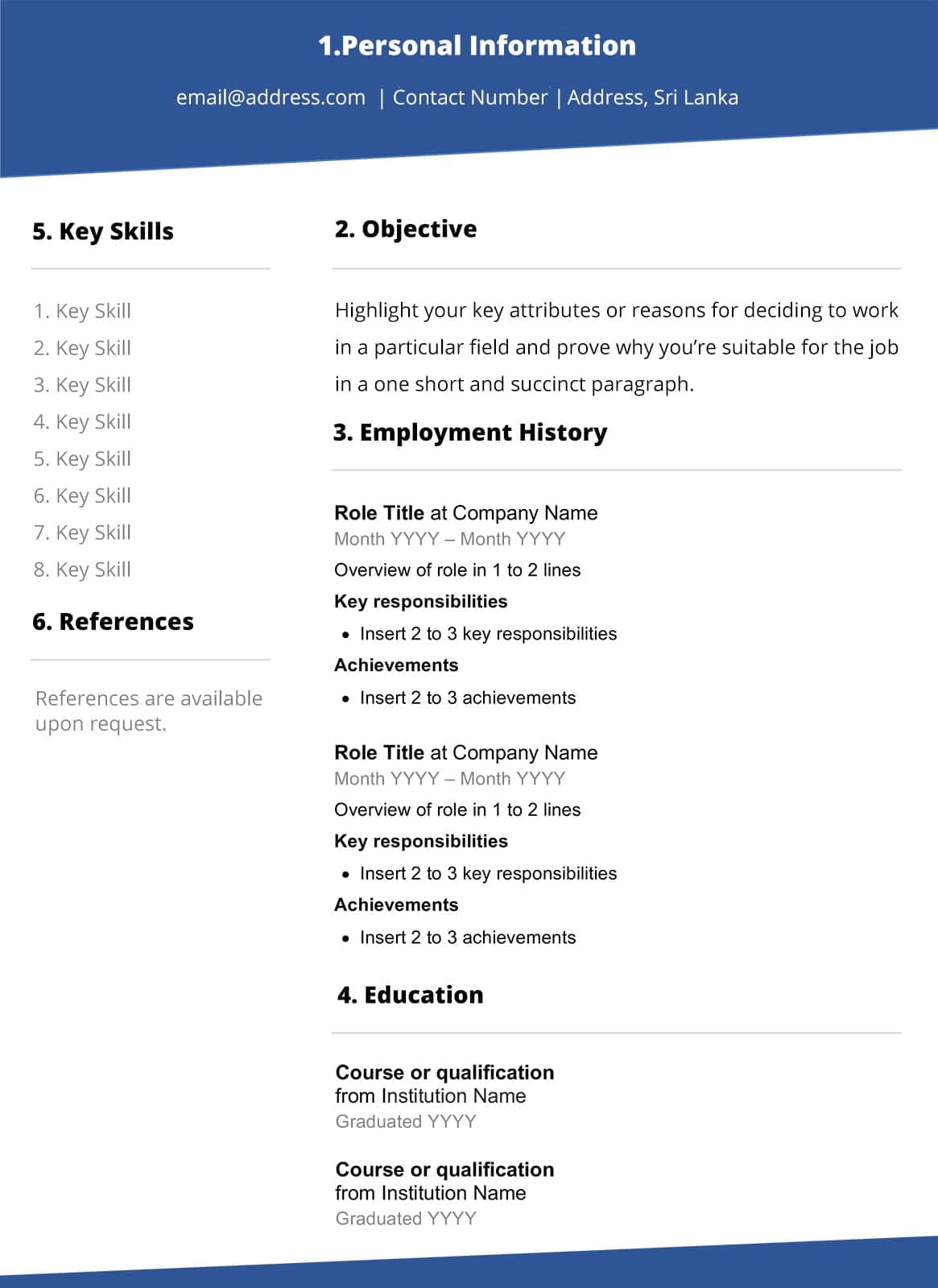 Written and correctly formatted resume is integral to your job search. When applying for positions in Sri Lanka, find your dream job today !
Create a professional CV with us
Landing your dream job is made easy with our professional CV collections
Offering a wide range of templates for students, freshers, and experienced individuals.
Allows you to add, remove, or re-arrange paragraphs on your CV as desired.
The compatibility of our CV platform on all devices, including mobile and desktop
Your user data is fully secured during the entire process.
FAQ:
How long should a resume be?
Ideally, your resume shouldn't be longer than two pages.
Which CV is best for Sri Lankan?
Sri Lankan applicants should focus on concise content, clear formatting and skills, relevant personal details, educational qualifications, and work experience.
What is the preferred file format for submitting a CV in Sri Lanka?
PDF is generally preferred for submitting resumes in Sri Lanka as it ensures the formatting remains consistent across different devices and platforms.