Here are some of the best places to visit in your Ella Holiday. With its location amidst tea plantations and rolling green hills, Ella, Sri Lanka, is a favorite among tourists. There is something for everyone, whether they are adventure lovers, honeymooners, or traveling with their families.
Are you a hotel or restaurant owner and would like to get your services listed? Reach out to us on WhatsApp – 0770171173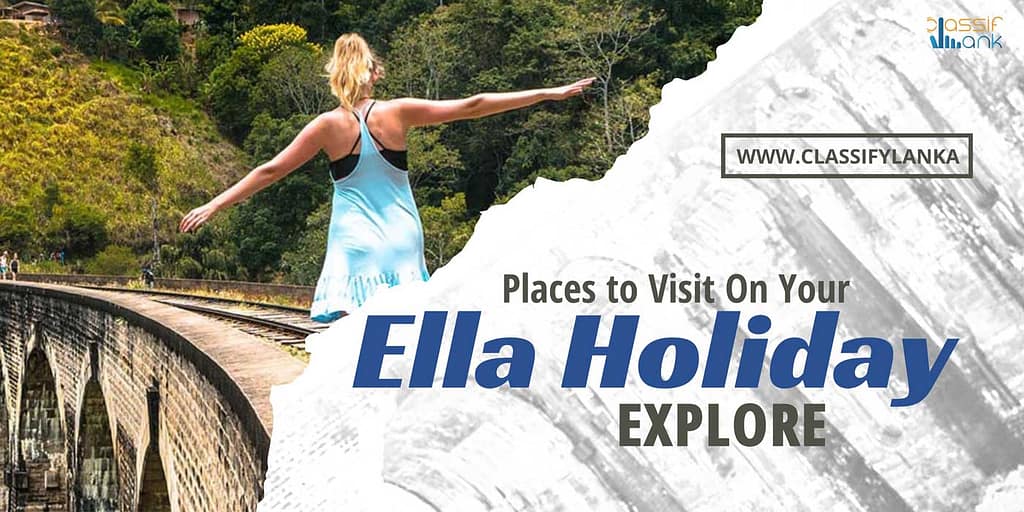 Table of Contents Places to Visit On Your Ella Holiday
1. Nine Arche Bridge
This 102 years old piece of beautiful architecture was constructed from Colombo to Badulla in 1921 under the British government. Records says that this bridge has been built only using blocks of stone and cement and without any support from iron or concrete. Also, the massive arches take the bridge on a curved path to link to the mountains, and this treasure is 300 feet (around 91 meters) in length,25 feet (around 8 meters) in width and 80-100 feet (about 24-30 meters) in height.
---
Best Time to Visit
The best time to visit this massive masterpiece is close 7A.M to 9 A.M to see a pleasing view of the sunrise.
---
There're multiple ways to get near the bridge. The "Ella Odyssey Train" which is a super luxurious intercity train arranged every Saturday by the department of the railway is only a way to get there. The most recommended path is to have a quiet walk for around 10 minutes in the jungle after passing the Arts Café Umbrella simply to get a unique view of the bridge. These are only two highly used paths.
Nine Arch bridge offers a natural and the surrounding acts as if it is a natural backdrop for an awesome photoshoot. The perfect scenarios of tea estates, the jungle, woodland hills, the marvelous sight of the sunrise and sundown, the blue sky and the green villages highlight the beauty of this notable artwork.
2. Little Adam's Peak
This miniature version of the Adam's Peak is located 2 KM away from Ella, Namunukula and 1141M or 3743 feet above the sea level, which is surrounded by the Uva, Northern and Southern provinces.
The golden days or the best days to visit this mini creation of the mother nature is either during summer that is March to June or during the winter which is December to February as there is a high chance of experiencing heavy rainfall from the month of July to November. Not only that the best time to visit this place is in the early morning to witness the sunrise or at the night fall to see the wonderful show of the sunset.
There is no need for a tour guide as it has a straight path which has a massive number of stairs which will lead to around 1.5 KM hike to reach the top. Other than the hike and witnessing sunrise or sunset are a few more interesting things locals and foreigners visitors can enjoy. Such as the "Flying Ravana Zipline" which displays an amazing scene of the tea estates from above. Also, there's are privileges to the practice Yoga and meditation. Afterwards, the tourist can also have their lunch at "98 Acres Resort" with the lovely panorama.
Little Adam's Peak is like a must visit place just to enjoy the natural backdrop and to enjoy the beauty of mother Lanka.
3. Halpewatte Tea Factory
Since the 1940's Halpewatte tea factory offers the finest Ceylon tea experience and it is one of the main reasons for the popularity popular among foreigners. This is located 6 km away from Ella. In the year 2008, this factory became the largest tea producer and exporter in the Uva province simply because of their love towards the Ceylon tea.
If you want to have a wonderful experience, having a guided tour will be an option at the green tea garden & throughout this amazing tour, you'll get to know many interesting facts about Ceylon tea and the manufacturing process. During this time, the visitors are allowed to go on a tea-picking journey which is a very exciting and a fun activity for many foreigners as it's a rare opportunity for them. The tour will wind up with an astonishing cup of tea.
4. Ella Rock
This amazing place with stunning view is located a bit outside Ella town but in mid-Sri Lanka. Around 1041 KM (15 feet) above sea level allows to spot this wonderful establishment from anywhere which is also a remarkable terminal with a high tourist interest.
As for the unbelievable hiking destination the entire town is named as the "tourist town" not only because of hiking but because of the marvelous view of the Ella gap and the little Adam's Peak. And the deep valley joins Ella and Wellawaya.
With a total of 8 KM hike, the tourist can also spend the night at the campground at the top of the rock. Even though it has a humid and a neutral/moderate air temperature with a sunny morning, during the eve there is a high chance of experiencing rain showers. At night the fog is simply sweeping the entire forest. It is a breathtaking sight that everyone's craving to see. Without a guide surely someone will get lost in tea states and hills along the way.
Activities in Ella
Waterfall tours
Hiking
Rail journey
Visit to tea plantations
5. Ravana Falls
This is a most impressive waterfall in Sri Lanka and is not to be missed during your tour. The three-tier waterfall is 25 meters in height. But for more adventurous, you should take the second or third tier. You can reach this picturesque fall by a 10-minute drive from the Ella main road.
Also, there is a nice history that is buried inside this beautiful waterfall which is connected to the famous Indian epic, Ramayana. According to historical records Ravana who was a king by that time had kidnapped princess Sita and hide in the cave behind the waterfall. Even today you can see this cave. The name for this waterfall had derived from this king's name Ravana from the long past.
There are few spots for bathing around the waterfall but before you go you must concern about the weather as it is more dangerous the rainy season. This is a highly recommended destination place when you travel to Ella.
Conclusion
Ella is a small town with a huge heart that offers a lot of adventure, stunning natural scenery, and special experiences.
Are looking for a Hotel or Restaurant, appearing in Google's, our directory listing should be a top priority for your Diving Services.
Classifylanka allows your business, to List your Hotels or Restaurants for FREE on our website. Reach new customers from around the Sri Lanka! We promote your Hotel and Restaurants through out our website. Don't hesitate to contact us because we are here to help you.