Now a days all remittance centers/ money exchanges are closed, are you wondering how to send money to Sri lanka?

Now send money with Ooredoo Money App and Western Union
වර්තමානයේ පවතින තත්ත්වය හමුවේ නිවෙසින් බැහැරව යෑම වඩාත් අවධානම් බැවින් නිවසේ සිටම ඔබගේ මූල්‍යමය ගනුදෙනු ඉතාමත් පහසුවෙන් කර ගැනීමට දැන් ඔබටත් අවස්ථාවක් ඇත. ශ්‍රී ලංකාවේ සිටින ඔබේ සමීපතමයන් හට ක‍්ෂණිකව මුදල් යැවීමට ඔබට දැන් අවශ්‍ය වන්නේ ස්මාර්ට් ජංගම දුරකථනයක් සහ අන්තර්ජාල පහසුකමක් පමණි.එහි දී විකල්ප අන්තර්ජාල සේවා ඔස්සේ ස්මාර්ට් ජංගම දුරකථන හරහා ඔබ වෙතට එන ස්මාර්ට් ඇප් එකක් මඟින් නිවසේ සිටම එම කාර්යය පහසුවෙන් ඉටු කර ගැනීමට ඔබට හැකි ය.
OOREDOO MONEY
වසර 33 ක් මුළුල්ලෙහි ම නිරතුරුව ම ඔබ ඔබේ සමීපතමයින් සමඟ සමීප කළ OOREEDOO සන්නිවේදන ජාලය මේ මොහොතේ දී ත් ඔබේ ආරක්ෂාව තකා ස්මාර්ට් ඇප් එකක් හඳුන්වා දෙන්නේ මහත් වූ ආඩම්බරයෙනි. ශ්‍රී ලංකාවේ සිටින ඔබේ ආදරණීයයන් හට මුදල් අවශ්‍යතාවක් ඇතිවන අවස්ථාවක ඔබ අතැති මුදල් ඉතා ඉක්මණින් සහ ආරක්ෂාකාරීව ඔවුන් අතට පත් කිරීමට මෙමගින් හැකිවේ.
ඔබේ ජංගම දුරකථනයෙන් එම සේවාව සක්‍රීය කර ගැනීමට පහත දක්වා ඇති පියවර අනුගමනය කරන්න.
How to register:
Dial *140# from your mobile phone and keep following instructions until you create 4 digit Mobile PIN while you will be requested to enter your QID number and accept given Terms and Condition.
*(Make sure that you have a valid OOREDOO connection in Hala or Shahry mobile phones registered with your own name.)
Ask your nearest OOREDOO shop keeper to register your number for OOREDOO mobile money.
Download Mobile Application here: Google Play | Apple Store
For more information Contact: Call 111 or WhatsApp 4414 4414
Click here for FREQUENTLY ASKED QUESTIONS
How to top up your Mobile Wallet:
Use an OOREDOO Machine.
Then you can transfer money directly from your QNB Account to your Mobile Wallet using online QNB Payment Service. (Please follow www.qnb.com.qa for additional information)
For further assistance just visit our OOREDOO shops at Al Anees, Starlink, Ghasham and Jumbo Electronic outlets.
Discuss and request your employer to transfer money directly by using Local Transfers Features.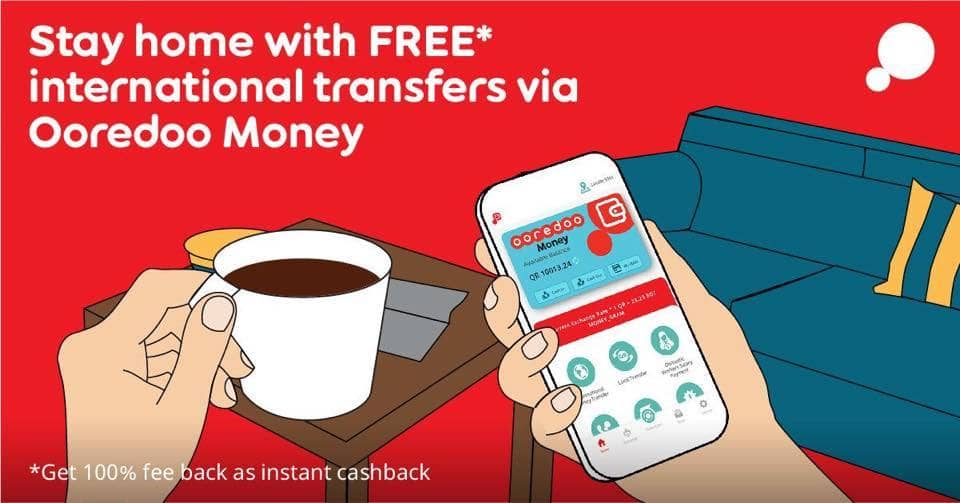 WESTERN UNION APP
ඔබේ නිවසේ සිටම ශ්‍රී ලංකාවේ සිටින හිතවතුන් හට මුදල් යැවිමට ක්ෂණික සේවාවක් ඔබේ ජංගම දුරකථනය හරහා Western Union විසින් ඔබ අතට පත් කර ඇත.ඒ සඳහා ඔබ කළ යුත්තේ පහත දැක්වෙන link එක හරහා ඔබලේ ජංගම දුරකථනයට Western Union ඇප් එක download කර ගැනීම පමණි. ඉන්පසු පහත සඳහන් උපදෙස් අනුගමනය කර ඔබේ සමීපතමයින් සමඟ ඉතා කඉඩිනමින් සහ ආරක්ෂාකාරීව මුදල් හුවමාරු කර මුදල් සම්ප්‍රේෂණයේ නව්‍යකරණය ඔබත් අදම අත් විඳින්න.
Download Mobile Application here: Google Play | Apple Store
Payment method: NAPS debit card(s) issued in Qatar. Contact: 4453 7777
Click here for the FREQUENTLY ASKED QUESTIONS
How to register:
Download Western Union App from Google Play or Apple Store start your registration process or through WU.COM web portal.
You can verify your mobile number by the One Time Password (OTP) you receive.
Click the link received from Western Union to verify your registered e-mail.
Upload your QID photo (both sides) and a selfie video of 3 seconds (holding your QID) via your registered e-mail to

[email protected]

or WhatsApp to one of the following numbers. 66963568, 66944796, 66901674, 66892076
At the final stage of registration you will be contacted by the Agents of ALFARDEN EXCHANGE to affirm your registration.
How to send money via Western Union App:
Login to your registered profile and select the country that you need to send money, required amount and method.
Provide your receiver's name, the purpose and the source of your transaction.
Confirm the details you entered and start payment through a debit card of Qatar.
Finally you will receive the confirmation of money transfer along with the Money Transfer Control Number so you save and share it with your receiver.
Then they can use it to withdraw the money you sent.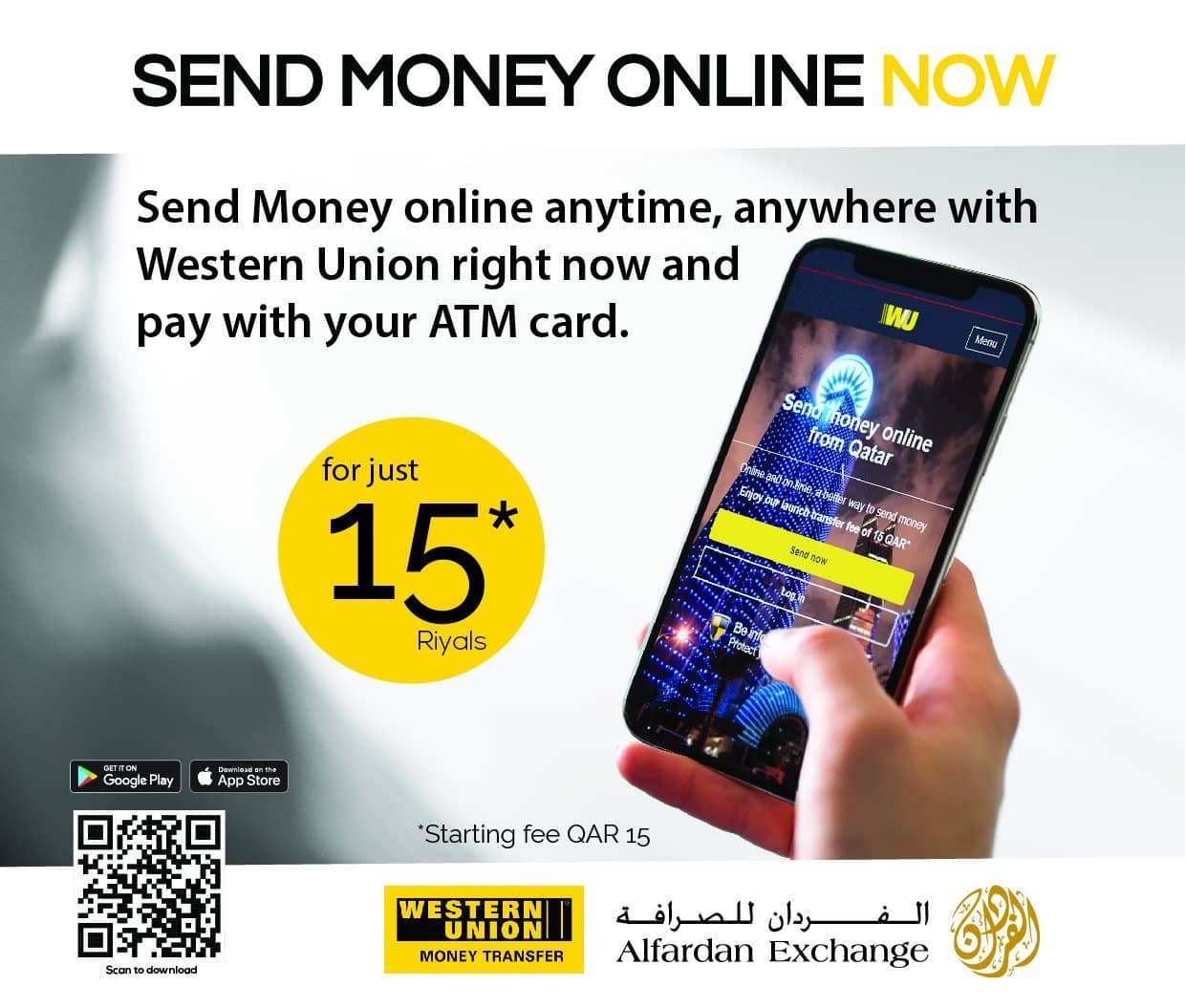 for video guide check below
Do you face any of these websites or mobile applications problems? Let us know in the comments below!