Daraz Sri Lanka is one of the most Popular Online Shopping site in Sri Lanka. Shop Online for men, women and kids fashion, books, toys, watches, home décor and furnishings, kitchen appliances and sports products at best prices from Daraz Sri Lanka. here, today I will talk about everything you need to know about Daraz Seller Center Sri Lanka.
In this guide, I will cover the following:
Why Become a Seller on Daraz?
Head over to the Daraz website and sign up as a seller. Provide your personal or business details and Provide information about the products you want to sell on Daraz Website.
Step 1
Step 2
Step 3
Select type of seller and Sign-up
DarazMall Seller
Local Seller
Global Seller
Digital Good Seller
Click Here to start registering your business on Daraz Sri Lanka.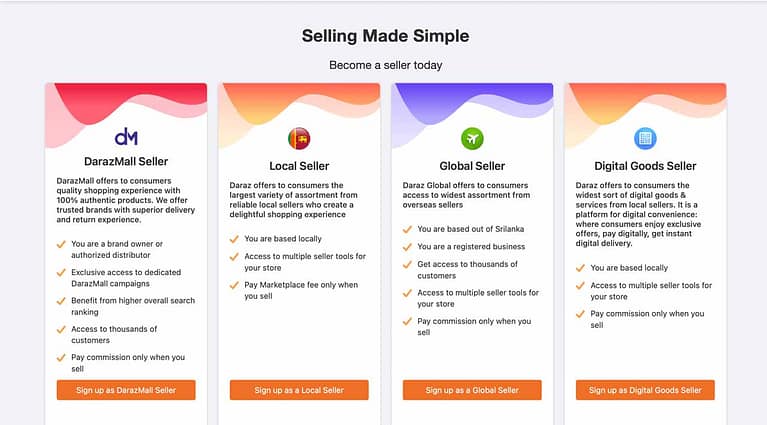 Need more help to register? Visit Daraz Help Center
Grow your small business on Daraz
Register as a seller
Simple product listing
Create vouchers build a beautiful e-store
Ship Easily
Daraz Seller Center benefits
This is a Classifylanka community post, written by one of our readers. The images and content in this post belong to their respective owners. If you feel that any content posted here is a violation of your copyright, please write to us at [email protected] and we will take it down.